Work with Corinne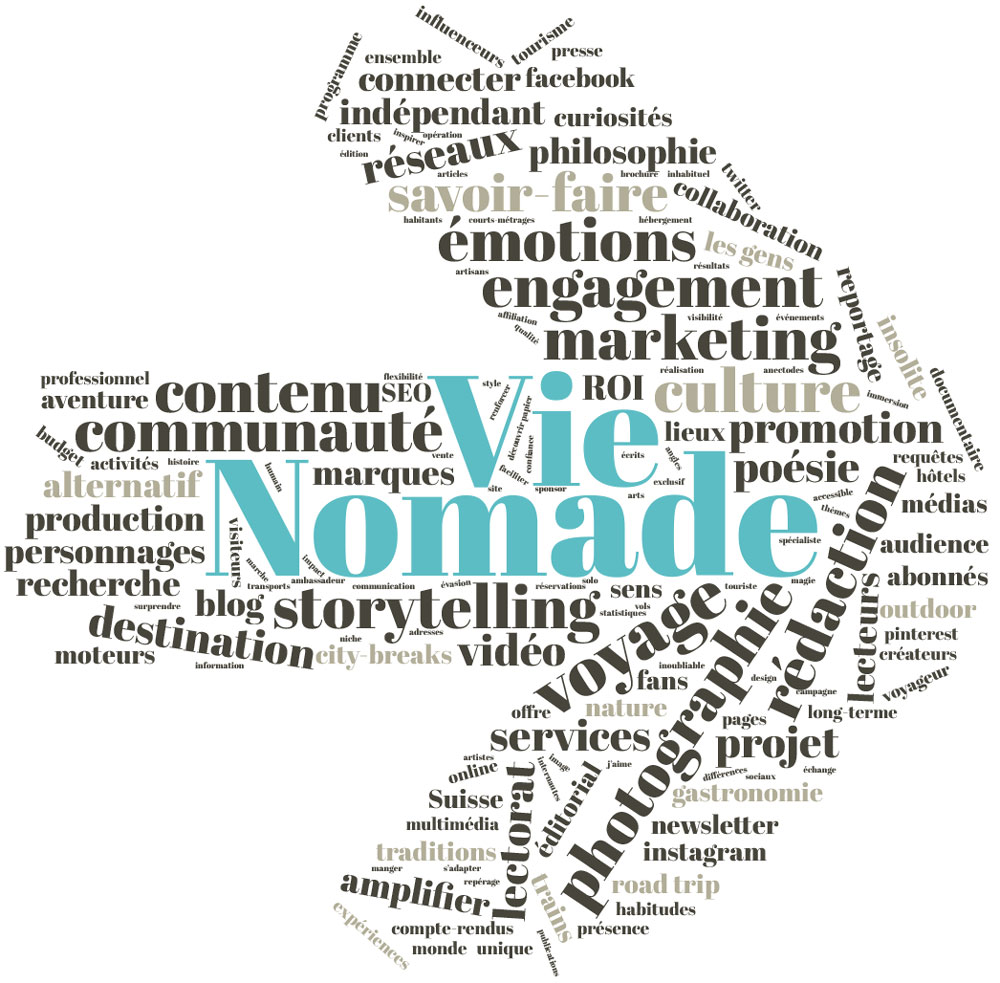 Travel and culture: towards a positive tourism
Do you wish to attract an alternative tourism, interested by culture, local customs and nature?
Do you wish to put forward the heritage, the traditions, the innovations and the characters of your country or region?
Do you wish to communicate to an independent and respectful readership, between 28 and 45 years old, travelling solo, as a couple, or with close friends?
Vie Nomade is all this, but also…
a strong and committed and community, since 2008
22'000 unique visitors et 46'000 page views per month
15'000 fans on social media channels (Facebook, Twitter, Instagram)
an excellent DA (44), a SEO investment for long-term results
Vie Nomade targets only a french-speaking audience.
Often the details make a difference
Your brand image is in good hands: expert style of language, eye for detail, excellent reputation and strong experience in communication allow me to consistently and beautifully contribute to the reputation of your business.
Vie Nomade is also…
More than 15 years of experience in communication, project management, online writing, photography and graphic design.
A network of creatives and influencers with complementary skills and angles: an asset for perfect campaigns!
A collaboration with a professional movie director, specialized in travel and outdoors (shorts-movies, storytelling)
Intimate and poetic stories, where the reader can identify himself
Detailed travel informations and guides with top notch SEO
Sales! (measured with affiliation programs)
Recognitions and past clients
Vie Nomade…
has collaborated with the National Tourism Office of Germany, Atout France, Destination Canada, Amazing Thaïland, Interrail, KAYAK,  and many others (references available on demand)
is a member of the Swiss Travel Writers Club that recognizes her as a professional media
has been nominated, and ended up second at the Clic d'Or 2017 by ADONET (association of foreign national tourism boards)
Le travail qu'a fourni Corinne lors de notre collaboration a été exemplaire : la personnalité, l'investissement et la réflexion qu'elle insuffle dans la réalisation de Vie Nomade sont particulièrement appréciables et admirables. Autant dans le résultat que dans le suivi du projet, Corinne a fait preuve d'un grand professionnalisme. Ce fut un plaisir de travailler ensemble. A. Kabanoff, Interface Tourism
C'est grâce à des sites comme le tien que j'ai envie de partager mes voyages à mon tour: ça m'a donné le coup de pouce pour assumer cette partie de ma vie qui ne s'épanouit que dans les voyages, et si à mon tour, je peux faire partie de cette chaîne de voyageurs qui donne envie aux autres, je trouverais ça vraiment génial. Nathalie, lectrice de Vie Nomade
Contacts
Let's meet at one of the tourism trade shows? Seen at ITB, WTM, WAT, MATKA, Top Resa and STS.
Examples of work
To give you an idea of what Corinne does, here's a selection of articles on various angles and styles.
Par Corinne Stoppelli
Je suis Corinne, un petit oiseau libre. Sans domicile fixe depuis 2010, je sillonne la planète à la recherche d'inspiration et de points de vue différents. Sur Vie Nomade, je partage mon regard sur le monde, le temps et le changement, d'une plume sincère et d'un objectif curieux et ouvert. En savoir plus?